Have you ever wanted to feel like you're in the cockpit controlling a fighter jet or commercial airline? Flightdeck gives visitors ages 11+ the thrill of a lifetime in a high-tech simulation experience. Located at 1650 S Sinclair St. in the heart of Anaheim, Flightdeck is perfect for birthday parties, corporate team building activities, dates, and much more. Who knew you could take to the friendly skies without ever having to leave the ground?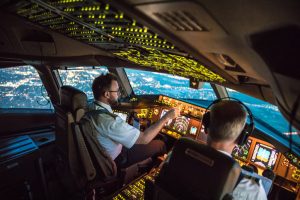 Whether you prefer the thrill of the fighter jets or the power of a Boeing 737—or both—you've never experienced anything like this before. You'll get suited up in flight gear, receive mission briefs, and then it's into the cockpit for war games with your frenemies. The Fighting Falcon features a multi-role fighter aircraft experience with extreme combat radius and a cruising speed of 505 knots. With a takeoff speed of 160 knots, it's known for superior weapon delivery.
Take Off!
The Boeing 737 has a wing span of over 124 feet. This massive airliner experience includes a 30-minute "flight" from takeoff to landing at a specified airport destination. Upgrade to longer packages of up to six hours and hop among airports around the world. Utilizing virtual reality and featuring numerous takeoffs and landings, you'll experience what it's like to control the biggest commercial airliner available.
Design a custom party just for you or choose from a pre-planned option if you're heading to Flightdeck as a team. Check out current offerings and make your reservation today.